AutoRacingTechnik
Fire Extinguisher Bracket to suit Nissan Skyline GTt R34 - Right Hand Driver Seat
Regular price
$99.95
$0.00
Tax included.
Fire extinguisher bracket to suit Nissan Skyline GTt R34
AutoRacingTechnik's fire extinguisher bracket is produced from corrosion resistant high strength aluminium alloy sheet that is precision cut then powder coated providing a "factory look", robust finish.  When installed into the right hand seat (driver) of the Nissan Skyline GTt R34, together with a suitable fire extinguisher, it meets all CAMS/FIA requirements for race track use.  Installation takes minutes with multiple slot-holes accepting a wide range of fire extinguishers/cradles. Installation kit comes complete with replacement high tensile strength grade 8.8 seat mounting fasteners (Nissan factory came with grade 7 fasteners).  This product is proudly designed and manufactured in Melbourne, Australia.

Warning: This product is an ORIGINAL AutoRacingTechnik-Australia design.  Beware of identical counterfeits/copies of this item bearing the Mine's brand, selling for over 3 times the price.  Another counterfeit labelled Motorsport Gear is a cut-priced copy of our design. These counterfeiters have been copying AutoRacingTechnik designs and contrary to their advertising are NOT owned by AUSTRALIAN but a foreign national.
For the safety conscious daily driver, who likes to be prepared in an emergency, but does not want to lose or reduce the front leg room area.  With the fire extinguisher bracket and fire extinguisher installed (when tested with various 1kg ABE fire extinguishers on the market), 
AutoRacingTechnik's kit allows full factory fore/aft seat rail travel
.  For practicality, a cut-out in the mounting bracket allows clearance for Nissan factory optional carpet mat hooks where fitted.
Designed to fit onto the right hand driver's seat, this aluminium alloy mounting bracket is non-symmetrical to allow more access when getting in or out of the vehicle
, and for clearance to the standard seat fore-aft adjustment release lever.
For track/rally use, refer to:-
2019 CAMS MANUAL OF MOTORSPORTS
: GENERAL REQUIREMENTS OF AUTOMOBILES
SCHEDULE H - FIRE EXTINGUISHERS
Fits:-
Nissan Skyline R34 GTt

NOTE: This is for 1x Nissan Skyline GTt R34 fire extinguisher bracket with fitting kit.  FIRE EXTINGUISHER AND/OR CRADLE NOT INCLUDED
kit contents:-
1x Aluminium alloy seat mounting bracket
1x Aluminium alloy seat mounting shim
2x High tensile grade 8.8 - M10 factory replacement seat mounting bolt
2x M10 washer
Seat mounting shims & retaining o-rings
---
Share this Product
---
More from this collection
Customer Reviews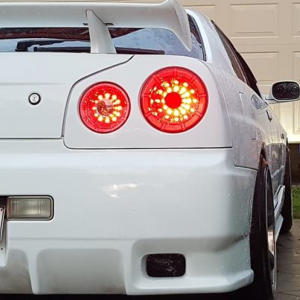 Z
14/01/2022
Zane

Australia
I recommend this product
Perfect fitment!
I'm 5ft11 and I have the seat adjusted perfectly with this mount! Works awesome in the stock location and the quality is superb. If there is a bucket seat (Bride) version for this I would def purchase that as well!
19/05/2021
Dianne N.

New Zealand
I recommend this product
Genuine spare part for a Nissan Skyline
My Grandson was rapt when he saw the part, as it was his birthday I was pleased but surprised when it turned up on time. He went outside in the dark to fit it that evening, after telling all of us that they were GENUINE. No problems with installing it, thank you.