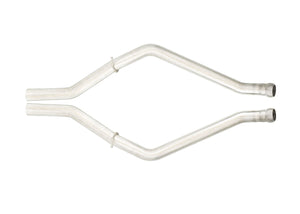 Tubi Style
Tubi Style Alfa Romeo Giulia V6 QFV Central Exhaust
Regular price
$2,076.02
$0.00
Tax included.
Part Number: TSALFQFV16.030
All Style exhausts are made with 304-grade stainless steel and are finished with a fully polished surface unless indicated otherwise.
We are authorized distributor of Tubi-Style Maranello, Italy exhaust manufacture and are able to provide superior quality and perfectly tuned sounds that would make your car much more passionate to drive with greater enjoyment.
Style systems are performance exhausts manufactured  Maranello, Italy. Tubi Style Group Spa (Formerly Tubi Style) in Italy has a history of working with top Italian marques, providing products for Ferrari and Maserati since the company's establishment.
The Tubi Style factory is located in Maranello in close proximity Ferrari's prestigious Maranello plant. The company was founded by Fausto Lettieri and Enrico Ruini, following years of experience in the Formula One exhaust sector.
Since 1987, Tubi Style has expanded their offerings from their locally produced Italian sports cars (Ferrari, Maserati, and Lamborghini) to also include the likes of Bentley, Audi, BMW, Aston Martin, and Porsche. Whether you're driving a larger BMW sedan or a race car like the Ferrari F40, Tubi Style is guaranteed to deliver the perfect blend of performance and sound.
---
Share this Product
---
More from this collection